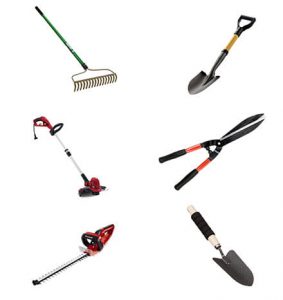 There is a large variety of lawn tools that are available both in home improvement stores and online stores that help you in your lawn management. You will find a large number of different tools like shovel, spade, hoe, trowel, etc. you will find different variations in each one of these tools.
Do You Need All The Garden Tools That Are Available In Store?
It is quite obvious that we do not need all the garden tools that are available in the store in order to manage the lawn. Although we all like to try new tools that look interesting and also possible that it would be quite useful. However, if you want to try all the garden tools that look quite useful to you would be an expensive option.
Choosing The Right Graden Tool
We have seen many new and innovative garden tools that are available today to manage the lawn and these new and innovative products have made the job kind of easier too. However, you might have also seen some of the useless and unwanted products that look nice in those TV commercials. If you look closely, the conventional tools that are available for quite long such as a shovel, lawn mower, string trimmer and hedge trimmer. These tools are a must if you manage a lawn since they help in many different tasks to manage a lawn.
1. With the help of a rake and shovel, the mulch can easily be spread and can also be used for digging holes in the ground for plants.
2. String Trimmer is best for trimming the edges of the lawn and also helps to get rid of those unwanted overgrown weeds.
3. Hedge Trimmers plays a vital role to give a nice look to your lawn by trimming the hedges.
4. A good Lawn Mower is the essential part of the lawn that's a must-have equipment in the list of garden tools.
Few Extra Tools That You May Use
You may also add some extra tools that are required to manage the lawn properly.
Saftey is a very important factor, therefore, we recommend that you use safety glasses to cover your eyes while you're doing any sort of lawn work.
You may also like to use a Weed Control Mesh to protect your lawn from weeds.
Sprinkler Timer Can make your life a bit easier and helps you in watering your lawn.
These are some of the of garden tools that can help you in completing your lawn job with an ease. If you think that some essential tool is missing from this list then please comment below and we will consider to add it.