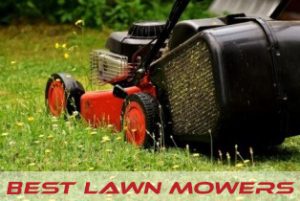 In this buyer's guide, we will not just pick the best lawn mowers that are available in stores today but we will also review their features as well as advantages and disadvantages.
It's also important to understand the fact that the lawn mowers are available in a wide range having many different features. For instance, Green Works alone has a wide variety of models to select from. Honda also comes with around 13 to 14 different models of Gas-powered lawn mowers. The manufacturers offer different models with different features that suit differently according to the size of the lawn and the type of terrain.
We will also cover general questions in this guide that users have in their mind before purchasing a lawn mower like, what type of mower to buy, which type of lawn mower is good for their lawn, whether to buy a corded, cordless or gas-powered mower.
Without any further delay, let's go through the list of the best Lawn Mowers.
The List of 8 Best Lawn Mowers For Small yards
1. Honda HRX217K5VKA 187cc Gas 21 in. 4-in-1 Versamow System Lawn Mower (Self Propelled)
Honda HRX217K5VKA is on the top of our list for best lawn mowers. Honda HRX is a rear-wheel drive (RWD), it has a strong 190 cc engine. You can also set the speed of the mower easily according to your pace just by selecting the mode on the dial. You are able to adjust the speed range from 0 to 4 miles per hour. It also has the Select Drive System that allows you to mow at the same speed or adjust the speed as per the terrain.  
This mower has 2 blade cutting technology that can easily cut the long and thick grass without much effort. The twin blade technology cuts the grass further into smaller pieces for better mulching. Normally, you will see the single blade in most of the mowers but Honda HRX Series offers a twin blades system. The first blade will just cut the grass while the 2nd blade will cut it even further until the clippings are cut into tiny pieces. We all know that smaller clippings result in effective mulch, smaller clippings are easily decomposed which is quite healthy for your lawn. 
The Versamow 4 in 1 technology allows mulching, bagging, discharging and It also shreds leaves easily and chops the leaves into tiny pieces while you mow the lawn. All you need to do is adjust the knob as per your choice of mode and you are all set. The knob that's known as the clip director is connected with the sliding door below the deck of the mower. This sliding door allows you to control the discharge of the clippings. You may select between 10 different variations of clip director that allow you to control whether you want full bagging or full mulching. You may also adjust the knob in between that will let you bag some clippings while some clippings will be discharged to the ground. 
Note: This Mower comes with rear discharging and does not have side discharge feature.
After conducting research and feedback from users we have found out that Honda HRX is less likely to get faults. However, if you experience any problem Honda comes with a 5 years warranty on its HRX217K5VKA Lawn Mower.     
---
2. Ego LM2001 & EGO LM2102SP Lawn Mower
The Ego LM2001 & EGO LM2102SP Lawn Mowers are at the 2nd spot on our list of best lawn mowers. The major difference between the 2 models is that the Ego LM2001 Mower does not have the self-propelled feature whereas the EGO LM2102SP Lawn Mower is a self-propelled mower. Let's do some in-depth review of the Ego Lawn Mower.
Ego LM2001 Lawn Mower
You will find many good lawn mowers that are fine and do the job properly. However, the main feature that makes Ego LM2001 Lawn Mower different and efficient from other electric mower brands is the fastest recharge time of 30 minutes.
Ego LM2001 is also known as LM2000. This mower has a Lithium-ion 56-volt battery which increases the power to 40% as compared to other brands of mowers. Since most of the mowers have a 40-volt battery. The runtime of this mower is about an hour. I think that 60 minutes is quite enough to mow a lawn that is about 1/4 acres in size or around 10890 square feet. If you think that your lawn is bigger and would require a longer time to mow then you don't need to worry because the recharge time of this mower is quite fast (30 minutes).
The main issue that most users face with lawn mowers is the weight of the mower. The battery plays a vital role in making any cordless mower heavy. However, the battery that comes with Ego LM2001 Mower weighs just 3 pounds. This helps reduce the weight and makes this mower a lightweight push mower. The only function that Ego LM2001 is missing out is the self-propelled system.
The deck of this mower is 20 inches that allow cutting the grass faster in a single pass, this way the job is done faster. You can also adjust the height of the mower from 3.2 inches to 1.2 inches depending on how tall the grass is. Its 3 in 1 system allows you to select if you want to bag, mulch, or use the side discharge with the help of a side chute.
The Ego LM2001 mower comes with a Front LED lights which let you mow at any time of the day even when the sun goes down.
Note: Ego has launched EGO LM2102SP Self-Propelled Mower for those users who prefer self-propelled technology having all the other features similar to Ego LM2001.
---
3. Greenworks Lawn Mower – G-Max 40v 25302 (Cordless)
Greenworks Lawn Mower – G-Max 40v 253302 is a cordless mower that comes with a lithium-ion battery. It includes 4AH and 2AH batteries. You are able to add 2 batteries at a time and the 2nd battery acts as a backup. If the 1st battery runs out the 2nd backup battery will start its function that allows you an uninterrupted mowing of approximately 90 minutes. The 4AH allows 60 minutes and the 2AH adds extra 30 minutes of battery time. This Greenwork lawn mower is easy to operate and starts simply just by a push of a button.
The charger that comes along with this Greenwork mower allows you to charge a single battery at a time. However, once the mower is fully charged it allows you to mow more than 1/3 acres or 14520 square feet of lawn easily. This Greenwork electric lawn mower has 7 inches front wheel and the rear wheels are 10 inches that make maneuvering simple and easy.
The body of the mower is made from a good quality polymer. The size of the cutting deck is 20 inches in width which lets you mow the lawn more effectively and reduce the number of passes needed to mow properly. This Greenwork Lawn Mower allows you to adjust the cutting height in five positions using a lever for a smoother and cleaner appearance of your lawn.
The Greenworks 40v Mower consists of dual blades that are efficient enough to cut the thick grass easily. The mower is able to mulch the grass while you mow. You may also choose to collect the clippings in the rear bag.
The downside of this mower is the absence of a self-propelled feature and you need to use your strength to push the mower. If you have a hilly terrain then you might have to consider a self-propelled mower. However, the weight of Greenworks 40v Mower is just 42.5 pounds without any clippings filled in the bag which can be helpful. This Mower comes with 4 years limited warranty.
---
4. Lawn-Boy Lawn Mower 17734 With Self-Propelled Feature
Lawn-boy Lawn Mower 17734 is a gas-powered mower and it's in the 4rth spot on our list of best lawn mowers. This Lawn-boy mower model has made the start system easier, replacing the pull start with key start. In order to turn on the mower, all you need to do is turn on the key and you are ready to mow. This mower has an OHV Kohler XTX Engine which is quite user-friendly when it comes to maintenance. It comes with a 3 years warranty. This lawn boy mower is perfect for a small to medium-sized lawn. 
The mower also has an option of pull start if by chance there is an issue with the key start system. Since the electric start functions using a battery and if there is any problem with the battery, you may always use the pull start option in order to run the mower.
The Lawn-boy Lawn Mower 17734 has a deck of 21 inches that is made of steel which is lighter and durable at the same time. It uses a tri-cutting technology that cuts the grass perfectly that is good for mulching purposes as well.
This Lawn-boy mower is a rear-wheel drive (RWD) having the self-propelled functionality which is great for hilly terrain. You are also able to easily adjust the cutting height of the mower which lets you adjust the 2 wheels simultaneously.
The lawn boy self-propelled mower 17734 has three in one discharging capability that lets you choose whether you like to mulch, bag or want to side discharge the clippings. You can easily control the mower's engine and blade using a clutch on the handle which is very helpful if you suddenly want to stop the mower if something comes in your way while mowing. It is a very handy feature if you have kids or pets in your house.
This Lawn-boy lawn mower has 3 years Engine Guarantee and 2 years full warranty.
---
5. Worx Lawn Mower 
WG782
 If you don't want to make things complicated and you have a small-sized lawn then Worx Lawn Mower WG782 is the right choice for you. It weighs just 30 pounds which makes it quite lighter in weight as compared to other mower brands. The deck of this mower is 14inch and is specially made for smaller lawns. It has 24 volts battery that gives a runtime of 40 minutes or 10,000 square feet for every charge.
This Worx Lawn Mower offers a 3 in 1 cutting system that bags, mulch, and discharges the clippings. This mower does not have an option of side discharge and some users do not like its rear discharge system. The bag size is a bit smaller as compared to other brands and this is quite obvious because of the compact size of the mower itself. When you use the mower in bagging mode the small size of the bag may have you empty it more than 5 times if you have a larger area to mow.
The Worx lawn mower WG782 smart design allows you to easily maneuver the mower across the lawn and it efficiently performs great in difficult parts of the lawn like corner areas of your yard.
This Worx Mower has great results when it is used in the mulching mode and the users also tend to prefer it to run the mower in this mode because it is healthier for the lawn. The specially designed mulching blades cut the clippings even further to a smaller size. The only problem using this Worx mower in mulching mode is that the battery won't last as much longer as compared to the other 2 modes.
The 24 volts power battery fully charges up in about 7 hours. The battery will last for 30 minutes if you use it in mulching mode. Whereas, in the discharge and bag mode the battery lasts for about 40 minutes.
The Worx lawn mower WG782 allows you to easily adjust the cutting height by simply pulling the rod between the front wheels that acts as a lever. Since the mower has a compact size, therefore, it won't take much effort to adjust it. This mower has a two years warranty.
---
6. Troy-Bilt Riding Mower 30 inch
Troy-Bilt Riding Mower 30 Inch is best for people living in a suburb. It is, of course, a gas-powered mower and is best suited for medium-sized terrain.  It is small in size yet quite effective in terms of performance.
It has  420cc OHV Vertical Shaft Troy-Bilt Engine having excellent power.  The mower has a maximum of 4.25 MPH speed. However, the 30-inch cutting deck with 5 modes of height adjusting blades performs really well and you can set it according to your convenience using a lever. You may also grab some extra accessories which are quite useful and convenient and save time. This includes a bagger and FastAttach mulching kit that you may purchase separately. 
This Troy-Bilt Riding Mower weighs only 340 pounds only which is quite lighter in weight as compared to other models of riding mowers. The light weight makes it easier for you to transport it anywhere. The mower has a 1.3-gallon fuel tank that is quite enough for your medium-sized lawn. It has a fuel meter window that indicates the level of gas that is left in the tank.
The 18-inch radius turn makes the steering and maneuvering a lot easier especially with obstructions like trees. This Troy-Bilt riding lawn mower allows you to mow in reverse by adjusting the ignition key to the mid position and then press the button. If you will put the mower directly in reverse without adjusting the ignition key it will cause the blades to disengage.
It has small 13×5 inches front and 16×6.5 inches large rear wheels. This mower comes with a warranty of 2 years.
---
7. 20 Inch Greenworks Corded Lawn Mower 25022
 This Greenworks Corded Lawn Mower runs with a cord connected to the electric power socket. you would require an extension cord with this mower which many users don't like because of the fact that the cord is plugged in all time while you are mowing which makes it a bit difficult to mow. It has an electric motor of 12 Amp which provides it a good amount of power to cut the thick grass easily.
The 20inch rust-protected cutting deck that is made from steel helps finish the job quickly and efficiently. This Green works Mower comes with 3 in 1 feature that allow different options like bagging from the rear, side discharging which is liked by many users, and it is also capable to mulch the clippings that is good for the lawn.
The Greenworks Corded Lawn Mower 25022 lets you adjust 7 cutting height positions that are from 1.5 inches to 3.75 inches. These 7 different positions allow you to adjust the height as per the type of grass that you want to cut. The mower has a 10-inch big rear wheel and 7-inch small front wheels that make the steering simple and easy.
The good part about the Greenworks Corded Lawn Mower 25022 is that it is not noisy like lots of gas-powered mowers and it is environment-friendly as well. You also don't have to worry about running out of battery since the power is supplied through a cord connected to the power socket.
The downside of this Greenworks Corded Mower is that the cables will follow you where ever you go while mowing the lawn. The cord limits your mowing range and if you have a large lawn then this can be an issue. Another downside is that it is pretty difficult to mow around big objects like trees with corded mowers.
---

8. Scotts Reel Mower 2000-20 20-Inch Classic
If you have a small lawn and don't want extra fancy features then the Scotts Reel Mower 2000-20 20-Inch Classic is the right choice for you. This is the best affordable lawn mower that won't hurt your budget and it weighs only 34 lbs, you can easily hang the mower on the wall after completing the job. It is a small and compact mower that does not cover lots of space and does the job nicely.
You can easily adjust the height of the mower to 1-3 inches using a lever and set the mower's height that suits the grass type. This Scotts Reel Mower has 5 steel blades that are efficient enough to cut the grass without much effort. The dual 10-inch wheels make the maneuverability simple and easy.
The handles are specifically designed while keeping the ergonomics in mind and the handle is equipped with a soft cushion for better grip. The cutting width is 20-inch that covers more grass to cut. The Scotts Reel Mower 2000-20 20-Inch Classic is backed by two years of warranty.
---
Table Of Contents
How To Select The Best Lawn Mower
We conducted some research based on surveys and came to the conclusion that the self-propelled mower is the best lawn mower for lawns that are in size smaller than half an acre. It's also important to have a rear-wheel-drive functionality along with different modes of speed to switch from. It is also significant to have 3 different modes to dispose of the clippings, Mulch, Side Discharge & Bag. 
There are several other important features as well, like a blade braking clutch that lets the blade to stop while it keeps the mower running. This allows the engine to run and just the blade stops. This feature is quite handy if you need to check how much grass is filled in the bag or if you need to move something that's in the way of the mower while mowing. It's a must-have feature if you have kids playing around while you're mowing the lawn.
It is also quite handy to have a deck wash port on your lawn mower to clean the underside of the mower with the help of a garden hose. It washes out all the grass and dirt that is stuck in the blades by spraying the water underside of the lawn mower and on the spinning blades. If your mower does not have the deck wash port you can install it yourself as well if you know how to use the power tools or you may take assistance from someone who knows.
As per the research, the top limit of the push lawn mower is around half an acre and if we convert that to square feet it will be around 21,780 sq-ft. If your lawn is bigger than that then you may go for the riding lawn mower.
If you have a lawn that is is not too big then you must consider a self-propelled lawn mower that drives itself and you just need to steer the mower and not push it manually. It is recommended that if you have a lawn that is more than 4,000 square feet then you must consider a self-propelled mower over a push mower or a push reel mower.
back to menu ↑
Types Of Self Propelled Lawn Mowers (Front Wheel Vs Rear Wheel Drive)
There are 3 different types of self-propelled lawn mowers.
Front-Wheel Drive (FWD)
Rear Wheel Drive (RWD)
All Wheel Drive (AWD)
Front-Wheel Drive (FWD)
This type of lawn mower is good for terrain that is obstacle-free and is leveled. Front-wheel drive is good for a lawn that is up to 21,780 square feet in size. The front-wheel drive makes it easier for you to turn the mower with the help of rear wheels.
Rear Wheel Drive (RWD)
The rear-wheel drive provides a better grip between the mower and the terrain that helps you to mow easily if you have a hilly area on your lawn. You may also find some mowers with rear-wheel drive that allows you to halt the driving mode that helps you in steering or turning just like a front-wheel drive.
All Wheel Drive (AWD)
The Lawn mower that has the capability of all-wheel drive provides you enough power to mow easily on both leveled and hilly terrains.
We surveyed several lawn mower experts and they all recommended the rear-wheel drive mower and the reason was the better traction of mower and terrain. If you use the bag system to collect the clippings which fill up as you mow and the rear part of the mower gains more weight, it gives more grip to the rear wheel and makes the mower more efficient. However, in the front-wheel drive mower, the situation is a bit opposite since the weight of the bag increases due to clipping which makes the front driving wheel lighter and less effective.
We also have gone through some customer reviews on top shopping websites which sell lawn mowers and most of the customers stated that the rear-wheel drive mower helps to hold the mower in a straight line while mowing.
Most of the lawn mowers come with 2 modes for disposing of the clippings. Bagging, and side discharge. However, the experts prefer the mulching blade feature. These blades cut the grass even further into smaller pieces turning them into smaller clippings. Smaller clippings are decomposed well which makes it a better mulch which is quite healthy for your lawn.
You may see that brands talk a lot about the size and strength of the engine but normally it's not quite necessary. In general, the engines of the lawn mower range from 159-190cc and you may go between any of these. As per the research, it has been seen that the higher strength or power of engine does not promise a higher cutting ability of the lawn mower. However, if you spend quite much time mowing in extreme conditions like mulching the leaves, mowing wet long grasses then it is quite obvious that the strength and power of the engine play a vital role and you must then consider a mower with high power engine.
back to menu ↑
Overhead Valve Engine (OHV) VS Side Valve Engine
There are mainly two types of engines that you may see in lawn mowers side valve and overhead valve engine. As per the research, the Overhead Valve Engine is more durable as compared to Side Valve Engine. It is seen that Older mowers that have Overhead Valve Engine give lesser problems because its design is more efficient and it is more environment-friendly. It uses less gas and less carbon build-up that helps prevent the wear down of the engine. The OHV engines are also quieter.
There are mainly two famous engine manufacturers: Honda and Briggs & Stratton. Honda engines manufacture OHV for quite a long time, whereas the Briggs & Stratton makes both OHV and Side Valve Engines. Honda engines are less noisy and reliable which makes them better compared to others but Honda engines are a bit expensive. There are other manufacturers as well for mower engines like Kohler, Kawasaki, Subaru which are also good for home users.
back to menu ↑
Front And Back Wheel Sizes
Mowers having a rear wheel that is normal sized with fixed front wheels that don't pivot are considered just fine to many users. However, there are mowers available in stores that have a bigger-sized rear wheel and their front wheel also pivots. Lawn mowers that come with the larger rear wheel are good for the uneven and rough terrain.  As per the experts, there is a bit of a drawback with the bigger-sized rear wheel, they are difficult to steer mostly when you want to have a 180-degree quick turn.
The mower that has front pivoting wheels improves the ability to turn, however, these mowers are not good when moving on the hilly terrain and are also a bit difficult to maneuver when moving in a straight line. It is also seen that the front pivoting wheels also cause hindrance in cutting the grass closer to walls.
back to menu ↑
Corded Lawn Mower VS Cordless Lawn Mower (Pros & Cons)
back to menu ↑
Corded Lawn Mower
A Corded Lawn Mower is one that comes with an extension cord and in order to operate the mower you need to plug in the cable to both mower and the power socket. The cable comes in different sizes like 50 and 100 feet long. Let's have a look at some Pros and Cons of Corded Lawn Mower.
Pros Of Corded Lawn Mower
The biggest advantage of a Corded Lawn Mower is that it is quite much affordable as compared to a cordless mower and won't leave a dent in your pocket. The corded mowers are lighter in weight since they don't require any battery. As long as the cord is plugged into the power socket you don't have to worry about the electric power issues or battery drain out the problem, unlike the cordless mowers in which you need to check if the mower is fully charged before using it and you also need to keep an eye on how much battery charge is left while you are mowing.
Cons OF Corded Lawn Mower
The corded lawn mower has some limitations like it is required to be plugged in all-time while you are mowing, it gets really annoying when you want to mow around the tree area or any similar obstacle and you definitely don't want the cord to get entangled around the tree while you are mowing.
back to menu ↑
Cordless Lawn Mower
A Cordless Lawn Mower is one that runs on battery and does not require any cables or cords to be plugged in to run the mower. It comes with lithium batteries which are required to be charged before you mow your lawn. Let's go through some pros and cons of the cordless lawn mower.
Pros Of Cordless Lawn Mower
The most prominent advantage that a cordless lawn mower has over a corded mower is the ease to use the mower without any cord attached to it while you mow the lawn. With a cordless lawn mower, your reach is not limited and there is no need to be closer to a power socket while you are mowing. You can easily mow the lawn with any kind of obstacle that comes in your way like trees or hedges. The most frustrating part about the corded lawn mower is when the cable gets stuck around the tree or in the hedges.
Cons Of Cordless Lawn Mower
The major downside of the cordless lawn mower is that the battery time lasts between 30-90 minutes which is enough for a  lawn that is small or medium-sized. Different models of cordless mowers have different battery times. If the battery dies out before you are done mowing then you need to wait until the battery is recharged again.
The batteries of the cordless mowers are a bit heavy and also increase the weight of the mower to around 30 pounds. The batteries not only add extra weight to the mower but also increase the price twice as much as the corded mower.
Gas Powered Lawn Mower
The Gas-powered lawn mower runs on gas instead of electricity and they are recommended if you have a larger lawn area to mow. Since no battery or cord is required to run the mower, therefore, it has no mobility issue and a small amount of gas is enough to run it.  Gas mowers perform really good when it comes to cutting tall, wet, and thicker grass.
There are some downsides as well related to gas-powered lawn mowers like they are heavier as compared to an electric lawn mower. Gas mowers are a bit noisier and their engine requires regular maintenance.
back to menu ↑
Closing Comments
In this Buyer's guide, we have discussed various different options available to mow a lawn and we also have discussed the type of mower that is good for your lawn.
The major factor that you need to keep in mind before purchasing a lawn mower is not just the price. You need to go for the mower that suits best for you in terms of usability, the size of the mower, and last but not the least the size and type of your lawn.
We are already working on our list of best lawn mowers 2019 and review the new and improved mowers that are released by top brands and add them up to our top list if they are the best.